What is Miter for Zoom?
Miter is the better-meeting assistant: a software-as-a-service product, currently offered free of charge, that helps people run better meetings. It's available not only as a Zoom App, but also integrates with Google Calendar and is available as a web app.
Miter for Zoom is a Zoom App, available through Zoom's App Marketplace. It allows Miter users to access Miter inside a Zoom meeting window, and provides tighter integration between Zoom and Miter.
Miter for Zoom has been vetted by Zoom's team, including a security review. The Miter-Zoom integration provides Miter with a small amount of information about a Zoom user and her meetings (e.g., email address, name, user Zoom ID, Zoom Meeting ID, and meeting title), which we treat in accordance with our terms of use and privacy policy.
Overview: Installation & Approval
Zoom Apps are installed on a per-user basis--that is, a Zoom user can access Miter for Zoom via its App Marketplace link and install it in for use in her Zoom account.
Optionally, Zoom account admins can require per-Zoom-App pre-approval, preventing users in their organization from installing a given Zoom App until they pre-approve its use.
If your account is configured to require pre-approval, users who try to install Miter for Zoom will have the option to request your pre-approval for it. You may not receive a notification when a user requests pre-approval, but Zoom provides a list of pending approvals.
Configuring Pre-Approval
To enable or disable Zoom App pre-approvals for your organization's account, visit the App Marketplace's Permissions page: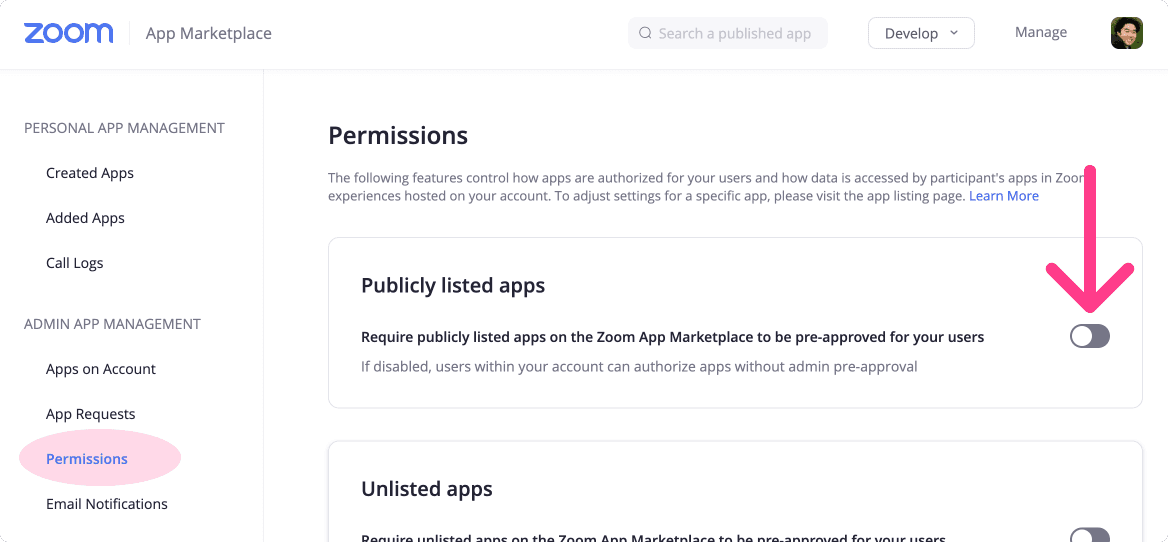 If this switch is turned off, people in your organization will be able to install Zoom Apps without bothering you for pre-approval. You can always see which apps are in use on theApps on Account page.
With the switch turned on, you will need to approve each Zoom App individually before anyone in your organization can use it. You can see pending requests on the App Requests page. Note: While Zoom provides email-notification options for pre-approval requests, at the time of this writing those emails are often not delivered. That is, even with email notifications enabled you will not be proactively notified of new requests.
Pre-Approving Miter for Zoom
If you have required pre-approval for your organization via the option described above, you will need to pre-approve Miter for Zoom before anyone in your organization can use it. You only need to do this once.
Simply visit Miter for Zoom in the Marketplace, where you'll see a switch to approve the app: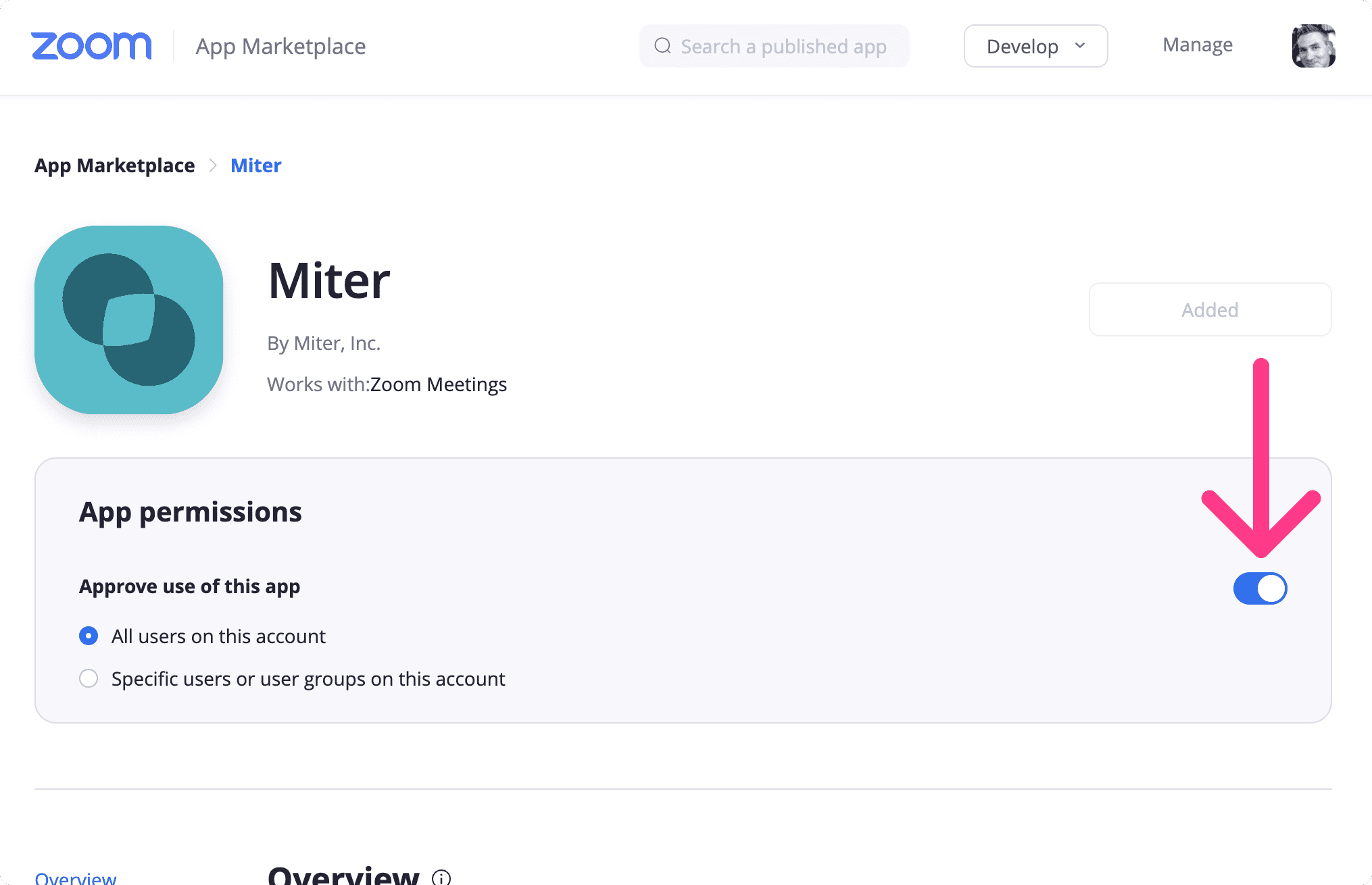 Once you've turned this switch on, people in your organization (including you) will be able to install Miter for Zoom.
Thanks for your interest in Miter! If you have any questions, please don't hesitate to contact us.